How to Connect to an Argentina VPN Server
Want to connect to an Argentina VPN server and obtain an Argentine IP address? With VyprVPN, it's easy! Just follow these quick steps.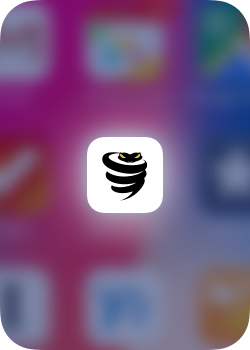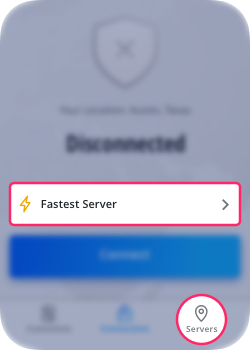 2. Tap the button above Connect to view available server locations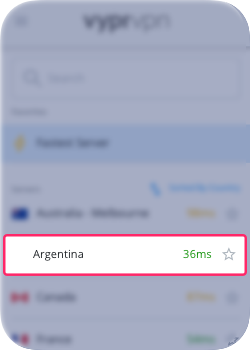 3. Select Argentina from the list
That's it! Now you're connected to a premium VPN and have an IP address from Argentina. It will appear as if you are browsing from Argentina. 
Why Use an Argentina VPN?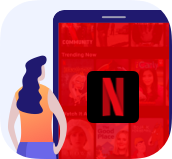 Enjoy your favorite Argentine shows and content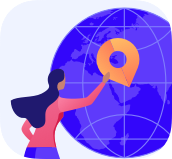 Select a different IP address to access streaming libraries outside Argentina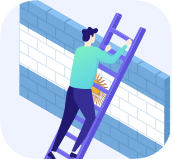 Avoid restrictions enacted by the Argentine government
Encrypt your connection to protect your privacy every time you go online
Using a VPN in Argentina is the best way to secure unrestricted access to the content you want to see across the internet. Many websites restrict access to users with Argentinian IP addresses due to geo-restrictions. VyprVPN is a premium VPN service that allows you to generate an IP address that originates from any of our global VPN server locations. Access your favorite websites, secure your internet connection and encrypt all data you send and receive online. 
If you are traveling or reside outside of the country, you may want to use an Argentina VPN in order to access your favorite Argentinian content or receive more options for international streaming libraries. All you have to do in this situation is to use the VyprVPN app and select the Argentina VPN server location from the list. 
VyprVPN also encrypts your internet connection and prevents the government from viewing your online activity, communications, location, IP address and traffic. Without an Argentina VPN, your network activities are subject to surveillance and data collection performed by your ISP and other service providers. VyprVPN utilizes strong encryption including the state-of-the-art WireGuard protocol to make sensitive data unreadable by ISPs, data sniffers or hackers trying to access your personal information. A VPN for Argentina protects your privacy and security on all desktop and mobile devices. It's important when using unsecured networks like public wi-fi, as well as each and every time you connect.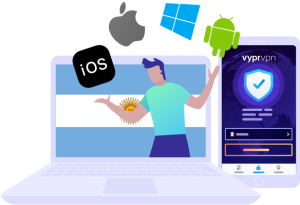 Get an Argentina VPN for All Your Devices
With VPN apps available for a variety of platforms, you can get a premium VPN for all your devices including iPhone, Android, Mac, Windows, Smart TVs and many more. Connect up to 30 devices at any given time and enjoy content from Aregentina on all your devices. 
70+ Worldwide Server Locations
VyprVPN has server locations around the world, so you can select from a wide variety of geolocations to find the one that best meets your needs.
• 300,000+ IP Addresses 
• 700+ Servers 
• 70+ Countries 
• 6 Continents
Visit our Server Locations page to view a full list of all our servers and where they're located.



"The best VPN solution out there. After years struggling for a reliable VPN solution, VyprVPN proved to be the outstanding one."
"Beautifully designed apps for Windows, iOS and Android. I use them all and they beat the competition hands down."
"...Connection speed is good and there is a wide ever growing range of VPN server locations. Must have app for android as well as ios and your computer!"