How to Connect to an India VPN Server 
Want to connect to an India VPN server and obtain an Indian IP address? With VyprVPN, it's easy! Just follow these quick steps.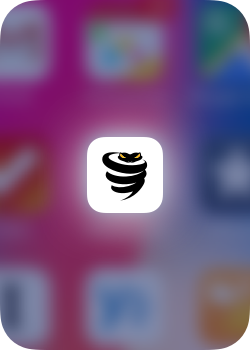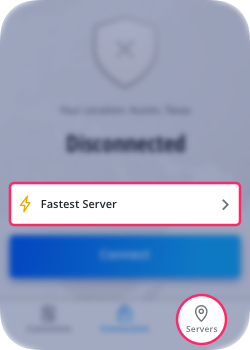 2. Tap the button above Connect to view available server locations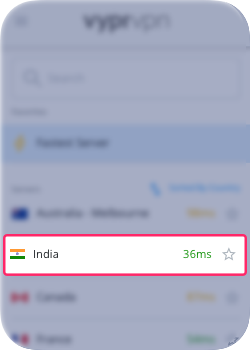 3. Select India from the list
That's it! Now you're connected and have an India IP address. It will appear as if you are browsing from India.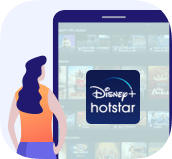 Enjoy your favorite Indian shows
Bypass censorship and blocks put into place by the Indian government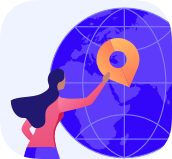 Select a US IP address to access US streaming libraries from India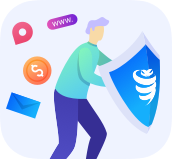 Protect your privacy online and stay safe from surveillance
If you are trying to access content from India, an India VPN is a must-have. An India VPN enables you to watch your favorite shows such as Kundali Bhagya, India Today Television and more anywhere in the world. If you are in India, you can also use an India VPN to access streaming catalogs outside of India. This is done by selecting a different geo-location and changing your IP address. VyprVPN provides the best VPNs for India because we offer the fastest streaming speeds and high levels of privacy. 
A VPN is essential to access an unrestricted internet, and if you want to access a free internet experience you will need a VPN for India. This is because internet freedom in India is on a decline, with the Indian government imposing repeated internet shutdowns, censoring information and removing content plus blocking sites. Privacy is also a concern, as the government has reportedly utilized targeted spyware campaigns and there are reports of people being trolled and harassed online. An India VPN is critical in helping you stay private online in India – as well as around the world. A VPN encrypts your connection so that no one, even the Indian government, can see what you are doing online.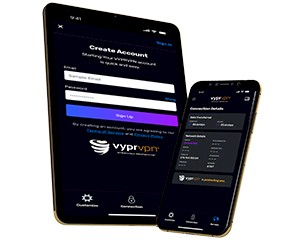 Get an Indian VPN for All Your Devices
With VPN apps available for a variety of platforms, you can get a VPN for all your devices including iPhone, Android, Mac, Windows, Smart TVs and many more. Connect up to 30 devices at any given time and enjoy India content on all your devices. 
70+ Worldwide Server Locations
VyprVPN has server locations around the world, so you can select from a wide variety of geolocations to find the one that best meets your needs.
• 300,000+ IP Addresses 
• 700+ Servers 
• 70+ Countries 
• 6 Continents
Visit our Server Locations page to view a full list of all our servers and where they're located.


"The best VPN solution out there. After years struggling for a reliable VPN solution, VyprVPN proved to be the outstanding one."
"The very simple and astonishing design of VyprVPN's apps for Mac, Windows & iOS that I've personally used and tested, makes it extremely easy to navigate through VPN servers."
"Beautifully designed apps for Windows, iOS and Android. I use them all and they beat the competition hands down."